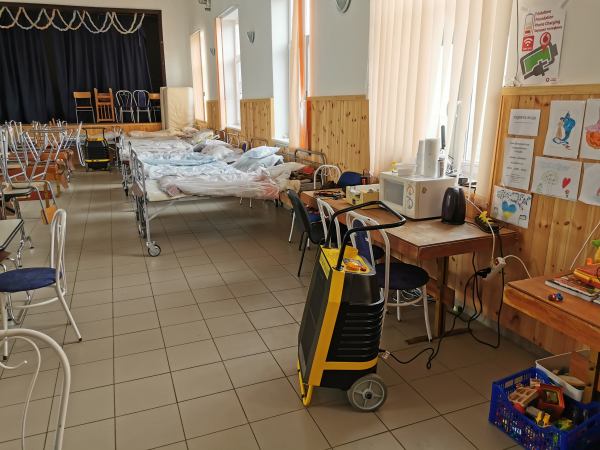 The war in the Ukraine has resulted in an unprecedented exodus of refugees to neighboring countries, and to countries further afield. Since the outbreak of hostilities, over 12 million refugees, mainly women, children, and the elderly, have been desperately attempting to cross the borders to find temporary shelter.
On the Hungarian – Ukraine border, the tiny village of Barabas has become a hive of activity and has absorbed many thousands of refugees into a makeshift transit center. The center is manned by volunteers from the Hungarian Jewish community, and works closely with Caritas, the Catholic NGO.
In order to maintain sanitary and odor free conditions, Gabor Timko, Hungarian representative of Ecozone Technologies, an Israeli manufacturer of sanitation equipment, has donated powerful sanitation & disinfection devices made by Ecozone Technologies to ensure optimum sanitary conditions.
The cooperation between the private sector, NGO's, volunteers and representatives of various religious groups, is a welcome sign during these dark days. Gabor Timko &  Ecozone Technologies wishes to thank you for your amazing humanitarian donation, as well as for all the efforts you and your team took in order to ensure the safety of thousands of refugees. We salute you and wish for a speedy return to normality for all the refuges in Europe and worldwide.
Want to get an in-depth  view of the solutions?
Visit our YouTube channel and website and then contact us for details.
https://www.youtube.com/results?search_query=ecozone+technologies+ltd
Whether you are a professional cleaning company, a hotel manager, a pub or restaurant owner, or a sports center and gym manager- you will find something of interest on our new channel.
Feel free to comment or share- we want to hear from you.
www.ecozone-technologies.com
Contact ecozone@ecozone-technologies.com
Ecozone technologies – Ozone Does It